The small UK overseas territory of St. Helena, located in the middle of the south Atlantic ocean, is one of the most remote in the world. Being 2000km from the nearest major landmass, Africa, communications and transport is not an easy affair for the 4,500 'Saints' which inhabit the island.
By Plane or under the sea?
The opening of St. Helena Airport in 2017 marked what can be described as the most significant development for the island in its history. Its isolation had ended… but had it completely? St. Helena's link to the outside world was shortened from 5 days by boat to 5 hours by plane.
It might have opened St. Helena to the world, but did it open the world to St. Helena? Not by today's standards. Can the average Saint access the wealth of information, education and entertainment sourced from anywhere the world at an instant, for next to no cost? The answer is no, the average Saint doesn't have acceptable access to that, that is, the subsea internet access.
The Current Status of Telecoms
Due to it's small market, St. Helena is not be able sustain a competitive market of providers. In 2013, the Saint Helena Government granted Sure South Atlantic (Sure SA.), a Bahrainian owned telecom the exclusive right to run telephone, mobile, internet and TV service in St. Helena until the end of 2022.
The island depends on a single 7.6m satellite dish at a single ground station to provide its international connectivity. As of 2020, this consists of 50Mb/s total internet bandwidth via the Intelsat system. Due to the nature of satellite communicaitions, it is subject to sun outages, rendering all international communications diabled for a few minutes on a frequent basis.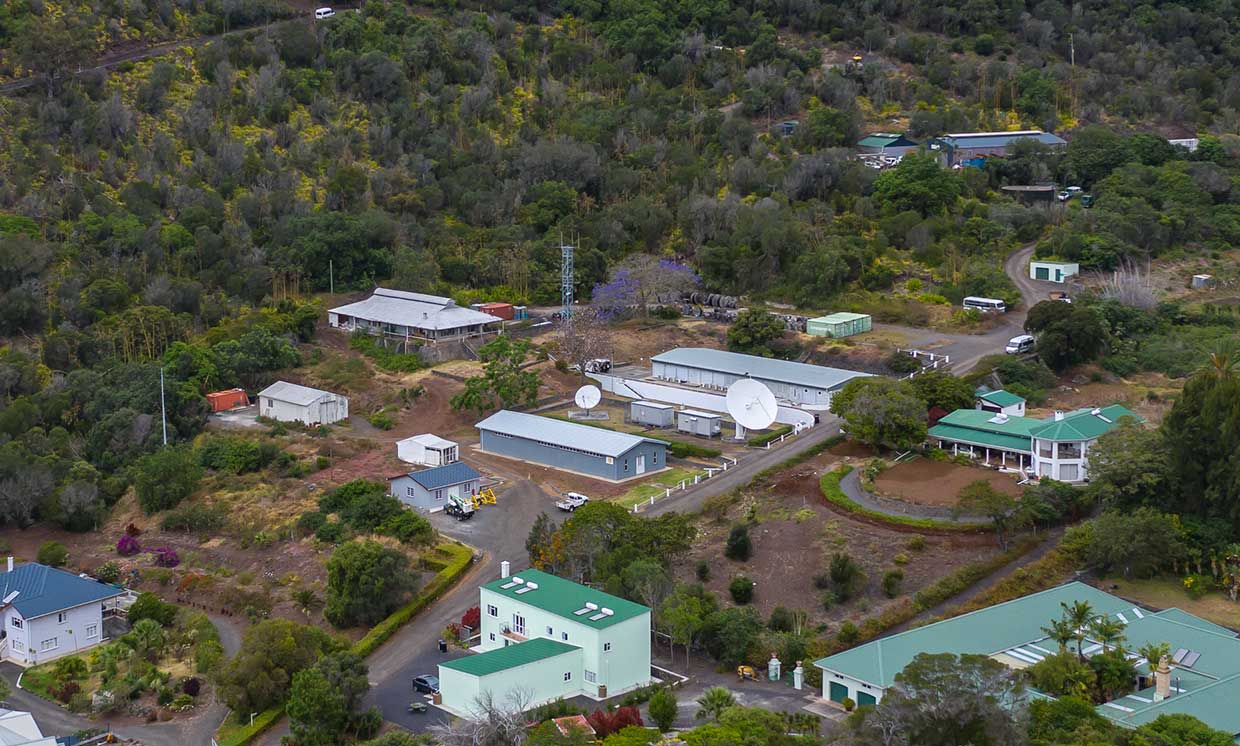 The current provision of internet services on the island consist of ADSL2+ services, limited at 1 to 2Mb/s speed. They come with a cap of 1 to 31GB, at a price ranging from £13 to an eye-watering £160 for the "gold package". Considering the minimum wage of £3.18 an hour, access to modern internet access is unaffordable to most. Even those who are able to pay for the highest package of 31GB at 2Mb/s, it is woefully inadequate for anything more than basic browsing. Streaming of online video or video calling is not viable at those speeds with a meagre data cap.
The prospect of submarine connectivity
In 2013, plans were being developed for the South Atlantic Expresss (SAex), which was meant to connect South Africa to South America and potentially beyond to the U.S. The cable's route was to pass almost directly past St. Helena, but was not being considered as a landing point. Never had the island been so close to having subsea connectivity before. A group called "Connect St. Helena" was established around this time to pressure stakeholders to create a landing point in St. Helena. They considered (rightly so) that, internet access was a human right, and they should "Move this Cable!". St Helena was eventually considered as a landing point, however, the SAex project didn't recieve the funding required to proceed as a whole, and the project was shelved. The Saints were back to square one.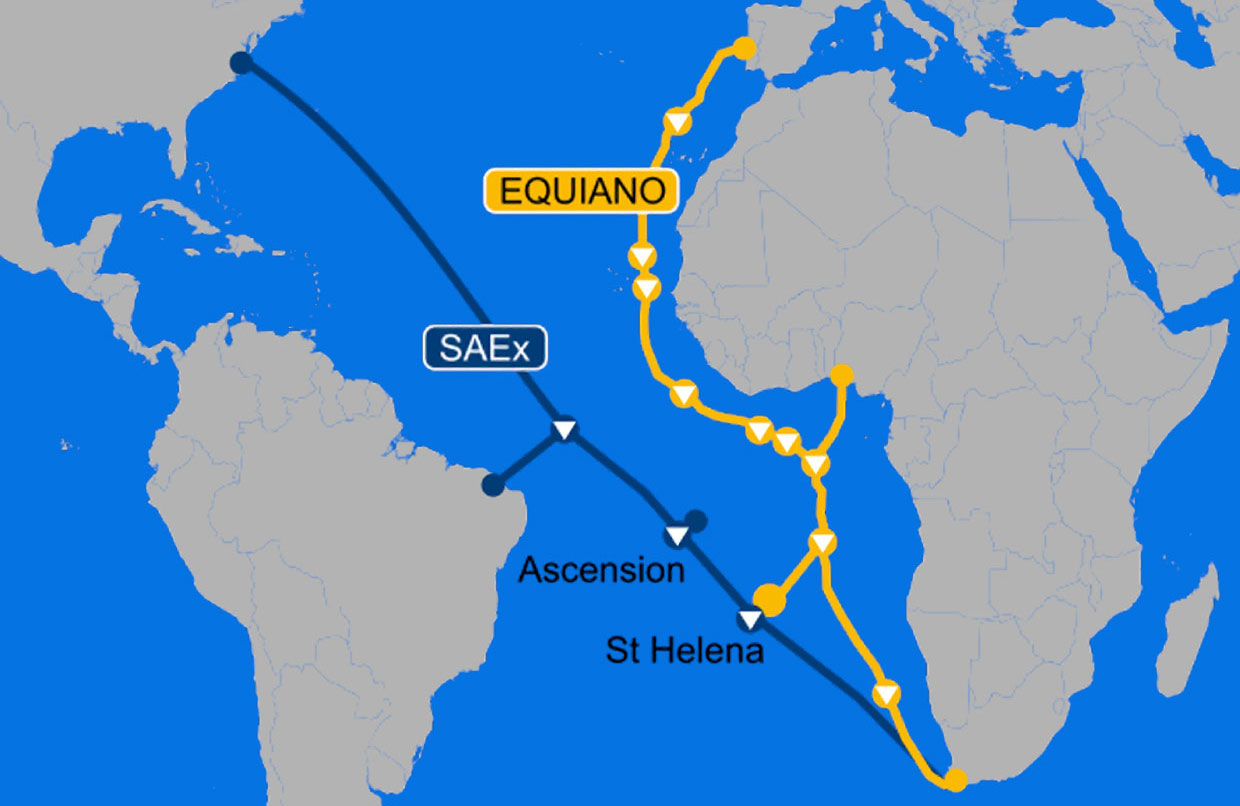 Google and the EU come to save the day
Thankfully, things are looking up for the Saints. Google's Equiano cable spanning from South Africa to Portugal was announced in 2019, which intends to serve countries along the West African coast. Branching Units on the cable will allow countries to connect either when the cable is built, or in future. The European Development Fund allocated €21.5m to connect St. Helena to the nearest branching point on the cable. Google's aim is to provide cheaper international bandwidth to the African continent. St. Helena's branch was more of a miraculous afterthought, considering Google not mentioning it in its social impact report in 2021 and it being a latecomer into the project.
The St. Helena Government signed an agreement with Google in 2019 to install the cable. In August 2021, the cable finally landed in Rupert's Bay, St. Helena. The island was the first landing point of the cable. As of 2022, the cable is still being deployed and should be in operation by the end of 2022. Will this milestone finally un-isolate St. Helena from the world?
Is St. Helena ready for the cable?
Sure SA. has an exclusive monopoly, as previously mentioned, until 31.12.2022. The St. Helena Government (SHG), has announced an expression of interest for a new potential licence holders, which would commence on the 01.01.2023. Google's Equiano cable is due to be in service in the latter half of 2022, or start of 2023. The timing of the new license gives some precident of a new era of St. Helena's telecom sector. The cable will transform the island's connectivity, but is the island ready to meet the demand?
St. Helena's domestic infrastucture has been fairly well developed for its current needs. Since 2011, Sure SA. has deployed a fiber backbone to a large part of the most built up areas of the island. Fiber connectivity is present to Jamestown, Ruperts, the Briars, Half Tree Hollow, Longwood and the Airport. Fixed microwave links are also present to fill in gaps where the fiber does not reach.
GSM mobile service was launched in 2015 and later 4G service became available to 95% of St. Helena's population.
The current infrastucture is able to support more than Sure's packages of 1 to 2Mb/s. Sure have deployed 7 ADSL2+ DSLAMs, which have the capability of up to 24Mb/s speeds. The small built up areas in St. Helena would present small loop distances, however the age and quality of lines could deteriorate speed. It is evident that Sure's fiber transmission and distribution network are not the current bottleneck, but rather that its prohibitively expensive international bandwidth is the constraint.
DSL, 4G, 5G or fiber?
The solution required for the deployment of high speed internet access across St. Helena when the cable comes into service is still undetermined.
The SHG's draft proposition for the new licensee is fairly demanding. It outlines the provision of a minimum of 50Mb/s service to residential customers, with a 100Mb/s+ premium service, as well as leased line services for business/government use of 1000Mb/s.
When considering Sure's current arrangement of a maximum 2Mb/s service, this may seem unobtainable with the current infrastucure.
Assuming Sure's copper infrastructure has been properly maintained and in good contition, this service level can fairly easily be implemented. VDSL technology, in effect a continuation of ADSL technology, can deliver speeds up to 100Mb/s. By upgrading Sure's existing ADSL equipment to VDSL equipment, and potentially extending their fiber network further into neighbourhoods and erecting VDSL cabinets, achieving the minimum 50Mb/s service level could be achieved with fairly low investment.
However, the copper network may not be in an adequate enough condition to support VDSL deployment. A fully fledged fiber network could be an option. A full fiber GPON network could be cost effective in the long run, offering practially unlimited bandwidth and low running costs. However, with Sure SA.'s 24 engineers and high capital investment, a full fiber network might not be the first choice for St. Helena.
Wireless Access, either through 4G or 5G will be an inevitable development. Fixed wireless access could be easily made available with fiber upgrades to cell towers and potentially densifiaciton of cells. The low population density of the island would not present any immediate bandwidth challenges to deploying 4G distribution to the island. Latency however might be an issue.
The most likely route will be the intial full utilisation of ADSL2+ at 24Mb/s, deployment of VDSL to dense locations (e.g. Jamestown) and eventually a migration to fiber based connections in tandem with higher speed 4G mobile connectivity and eventually 5G.
Sure SA. headed for a sure fire license continuation?
The SHG's draft proposition essentially gives Sure SA. a continued monopoly in Saint Helena. The proposition explains that Sure SA. owns current infrastucture. The SHG would have to compensate Sure SA. for it's assets (if were to take them over), and then either lease or sell them to any new potential licesee. In the current state of SHG's finances, this would seem unlikely.
However, despite the negative press, Sure SA. has been investing a fair amount into St. Helena's telecom network since its aquisition of the license in 2013. St. Helenas fiber network was non existant then, and today reaches most areas of the island, as well as GSM and 4G service debuting on the island in 2015.
In addition, Sure SA. seems to be showing its commitment to providing a good service level with the deployment of a direct fiber route from Ruperts to Jamestown in 2022, creating a redundant fiber ring to Jamestown from the Equiano landing point in Ruperts.
The only other public expression of interest for the running of St. Helena's telecom network is Saintel, a non-profit organisation. They plan to create a wireless network of unspecified technology to deploy high speed internet access to all of the island. A 4G/5G solution might meet this need, as discussed above, however the issues of aquisition or development of a fiber backbone in St. Helena is potentially a major hinderance. Despite the merit of being a non-profit for the good of all Saints, Saintel has not indicated how it will fund the development of its network.
Bandwidth – from not enough to too much
Google's Equiano cable gives St. Helena the low-latency, high bandwidth connection it has desperately needed for so long. But has it got too much to handle?
International submarine bandwidth does not come cheap. This is something that, despite the cable being landed in St. Helena, is haunting the SHG and prospective license holders when the cable goes online. Even if St. Helena had a full fiber domestic network extending to every business and home, 10Gb/s international bandwidth would probably be sufficient. However, it seems the SHG's draft proposition assumes a minimum of a 100Gb/s bandwidth on Google's cable. This is probably reasonable – this is likely Google's minimum bandwidth on the cable. How on earth is a population of 4,500 going to sustain the cost of a 100Gb/s connection?
The SHG therefore needs to find someone to foot the bill for the excess bandwidth on the Equiano cable.
S(a)t.ellite Helena?
Low earth orbit (LEO) satellite technology will be the saviour. Thought to be by some the holy solution to St. Helena's internet problem – low cost, low latency, high bandwidth. What's not to like? The only problem is that is requires a line of sight connection from the user to the satellite to the nearest ground station – leaving St. Helena out of luck as it sits too far from the nearest landmass to make it a viable internet solution.
However, it means St. Helena is a prime location for these LEO satellite ground stations. St. Helena can provide backhaul to LEO constellations providing services to ships and aircraft in the south atlantic.
Therefore the SHG has sought the attention of LEO providers to utilise excess bandwidth of the cable. OneWeb, a LEO satellite provider has expressed interest and is in active discussions with the SHG in building a ground station. OneWeb previously went bankrupt in 2020 but was bought out by the UK government and subsequently continued its plan of a LEO constellation. Whether the UK is indirectly supporting the SHG through the OneWeb ground station is unknown.
The SHG's draft proposition assumes 60Gb/s of bandwidth allocated to a Satellite Ground station, and thereby a 40Gb/s bandwidth for use by St. Helena residents and businesses. This would indicate a 800x increase in international bandwidth for the island!
Hopefully OneWeb will commit to building its ground station and St. Helena's future telecom provider will find a way to deploy a modern, high-speed network to its inhabitants.
Links/Citations